Where to Get Sweet Treats in Dallas for the Holidays
It's the time of year to indulge in sweets. Nibble on ginger nuts and enjoy rich panettone and dream of steaming mugs of hot chocolate. From sugar plums to chocolate babkas, these are the locally made goodies you crave when the weather gets colder.
Panettone from girls with flour
Girl with Flour (Erika Lam Radtke) has thrown herself into love making panettone, an airy Italian sweetbread similar to brioche. She makes an extraordinary panettone that promises to be "naturally sour, light, fragrant, a hint of sweet orange and a hint of intoxicating vanilla". Inside are nested currants and candied citrus peel. The crackling top is an elegant cocoa and almond glaze with sugar pearls. You can't go wrong
Sign up here. The remaining openings are for delivery to Dallas. Registrations should be closed on Thursday at 12 noon.
La Casita Bakeshop: gingerbread house and biscuit winter wonderland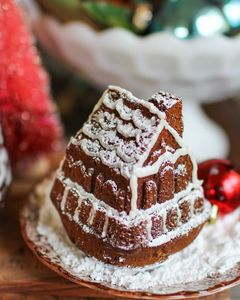 Look for gingerbread houses and miniature tarts with iridescent sugared cranberries and white chocolate panna cotta filling – and cookie jars (in three sizes) filled with Italian striped seven-layer biscuits. wonderful, striped peppermint macarons, raspberry Linz stars coated with powdered sugar; Cocoa crinkle biscuits; frozen gingerbread people; and horns of apricot kugelach. Not to mention the babkas (cinnamon pecan or chocolate), the bread seasoned with cranberry almonds and the Christmas bars seasoned with cherries. In addition to Kouign Amann and hazelnut financier, nutcrackers with rum and orange glaze. Also cannoli croissants and Abuelita chocolate and eggnog cruffins. And Café de olla, Horchata Cold Brew and most likely a partridge in a pear tree.
Order here. Collection on public holidays, Saturdays and on 23.12. From 12 p.m. to 4 p.m.
Haute Sweets Patisserie: Bombs gone
Tida Pichakron "gave in," she said, making Haute Chocolate Bombs in three flavors: Mexican chocolate, milk chocolate, and peppermint. You see, a rogue car drove into their store earlier this year, which obviously hampered Pichakron's ability to make their own products. Instead, she opted for the local chocolatier CocoAndre's lovely hot chocolate bombs in milk chocolate and Lucky Charms in white chocolate.
But then she went into action and started her own business in time for the holidays. (You can still only get CocoAndre's goodies from the original source in store.) Miraculously, Haute Sweets will also have gift baskets of various Christmas candies and biscuits for sale. a breathtaking gluten-free poached pear and almond cake; Cinnamon rolls; White Chocolate Cranberry Bread Pudding; Gingerbread cheesecake; a chocolate sponge Christmas log covered with chocolate buttercream; and holiday macarons. Think of it as a little vacation miracle.
They have limited quantities so get your pre-orders soon.
Emporium Pies: An ode to cakes
As you'd expect, Emporium has holiday taste: there's the hot cake, a buttermilk chess pie drizzled with salted maple caramel; the snowball, a coconut pudding with a shaggy mound of crispy toasted coconut and whipped cream; the double encrusted Merry Berry: "The love child between a sugar cookie and a cranberry muffin." Santa Claus, a dome made of peppermint cream with white chocolate, which is cuddled in a dark chocolate biscuit crust, is also there for you. Order by December 24th and yes, you can have them shipped to Grandma in Florida or Aunt Milly in California to add pizzazz to their palm trees.
Kisses kisses: hosiery
This year, in the Macaron Emporium, we can fill stockings with peppermint rind, peanut brittle and macaron sets (peppermint, gingerbread, egg liqueur and others). Individually cut Bûche de Noël (caramel toffee or chocolate hazelnut) and green and red macaron towers are available in the shop every day. We don't recommend stuffing them into large socks, however. Also the much too sweet gummy bear cake, the melting snowman cake or the cake that is decorated like a Christmas jumper. Do not fill the stocking with it.
Order here.
Kuluntu Bakery: A taste of South Africa
Stephanie Chalklen-Leichtle makes South African holiday treats that reflect a culture that is close to her heart (her husband is South African). Try a malva pudding, a "caramelized and sticky sponge cake" that is reminiscent of apricots and features rooibos poached pears. Serve à la mode. Or make a spring for a South African holiday box filled with treats from biscuits – Romany Cream Chocolate Coconut Sandwich Cookies – to fudge, cocoa nib and granola biscuits (like biscotti) and herb rooibos tea to sip. Only a few are left in stock.
Order here. Pre-orders close on December 16th at 10pm. Collection on Wednesday, December 23rd from 4pm to 7pm.
Empire Baking Co: Bread Port
Empire has all of your carbohydrate needs covered, with a pecan ring (a Danish batter filled with cinnamon sugar and pecans drizzled with frosting) to serve warm on a holiday morning; Spiced Cinnamon Apple Walnut Bread Loaf Cake; the delicate swirls of Nutella Babka; Gingerbread shaped gingerbread (I love that and it's hard to find); and apple and pecan tarts.
Order here or by phone.
Village Baking Co .: French connection
Those who want a French flair will find their bliss with a variety of tarts: pear and apple, mixed fruits, chocolate, hazelnut with dark chocolate, chocolate mousse and chocolate ganache. The French boulangerie also offers vanilla bean eclairs and house cream brulee. And quiches for the hearty variety.
And if you are looking for cookies and chocolate:
Dude sweet chocolate with their gift boxes "Chocolate for everyone" (two sizes)
Celebrity cake with yards and yards of all kinds of decorated sugar cookies as well as champagne flutes for the new year.
Our town has all the sweetness you crave.