Construction Kicks Off on High-Tech West End Square in Downtown Dallas » Dallas Innovates
Work on West End Square, the new high-tech park in the West End district of downtown Dallas, has begun. Downtown Dallas Parks, the Dallas Parks and Recreation Department, and community members are holding a virtual groundbreaking ceremony at City Hall on January 13th.
The former surface car park on Market and Corbin streets south of the former Spaghetti Warehouse building was closed earlier this month to allow work to begin. This comes from a statement by Parks for Downtown Dallas and the Dallas architectural firm Corgan, which has pledged a donation of US $ 100,000 towards the construction of the park.
The virtual groundbreaking ceremony in the Flag Room in City Hall offers a video tour of West End Square.
CONTINUE READING 'High-Tech Park' by NY High Line Designer is coming to the West End of Dallas
The less than an acre square is the second of four priority parks recommended in the Downtown Parks Masterplan Update 2013. Parks for Downtown Dallas are being built in collaboration with the City of Dallas.
"A strong public-private partnership involving leading companies like Corgan is critical to helping the city of Dallas create four new downtown parks," said Amy Meadows, CEO of Parks for Downtown Dallas, in one Explanation. "This shared vision will result in a network of parks that will bring our neighborhoods together and contribute to a better, greener future for Dallas."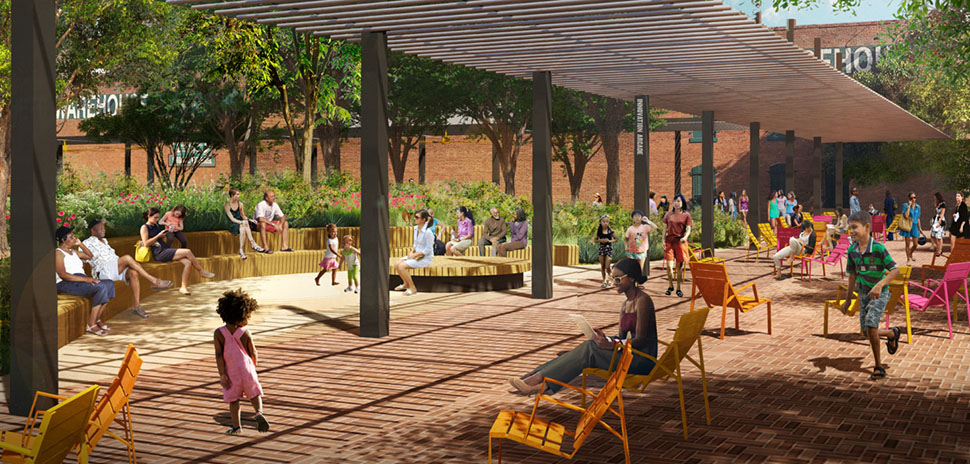 The first park, Pacific Plaza, is a 3.74-acre neighborhood park in the heart of downtown Dallas that opened to the public in October. The other two parks, Carpenter Park and Harwood Park, should begin construction in 2020 and 2021, respectively, according to Parks for Downtown Dallas.
According to Parks for Downtown Dallas, the four parks will be funded by Dallas city bonds of $ 39 million and more than $ 63 million in committed private funds.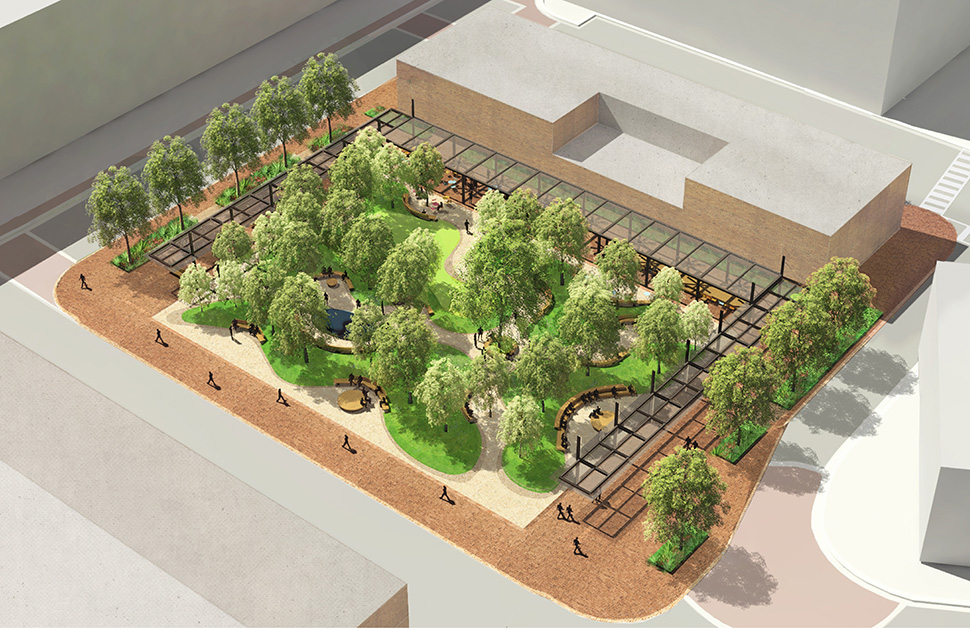 West End Square's design brings innovation and history together
Parks for Downtown Dallas, founded in 2015, is a nonprofit that succeeds the Belo Foundation, founded in 1954. It is exclusively dedicated to the long-term development and support of public parks in the city center.
The design of West End Square was led by landscape architecture firm James Corner Field Operations.
According to James Corner Field Operations, the course's design creates two distinct environments: The Frame, a U-shaped canopy structure, and Prairie Gardens, the interior area made up of organically shaped plant beds inspired by the Texas Blackland Prairie.
Here are the main design elements in West End Square:
The frame: This area forms a differently programmed threshold between the walkways of the historic district and the lush garden interior of the square.

Outdoor work space: The work space is under the shaded canopy on the north edge of the frame and features a 50-foot long table with charging stations and WiFi, making it easier to work outdoors.
The veranda: The porch swings will be an interactive and social feature that encourages play and activity for all ages.
Playroom: This area offers a variety of games for the public, including table tennis and table football.
Innovation arcade: There is a seating step in front of the east side of the square, which creates space for larger gatherings. The frame along this edge is designed for temporary installations, performances, and works of art.
Prairie Gardens: The organically shaped plant beds are shaped and planted with a pallet inspired by the Texas Blackland Prairies. Seating areas are engraved into the plant beds and offer a variety of social seating.
Groundwater level: It is located in the Prairie Gardens and has three different modes: a reflective pool for calm days, bubbler on windy days, and a cloud fog with drinking water for cooling on particularly dry and hot days.
Race: Inside the garden, the lawn is in front of the grid and forms an overflow area where you can sit in the sun on cooler days.
According to Parks for Downtown Dallas, the design balances innovation and history by creating a much-needed neighborhood park that caters to the growing West End population, as well as its role as a testing ground for integrating technology into public spaces.
The West End is already home to the Dallas Innovation Alliance's Smart Cities Living Lab pilot program, as well as innovation centers for Sam's Club and Blue Cross Blue Shield.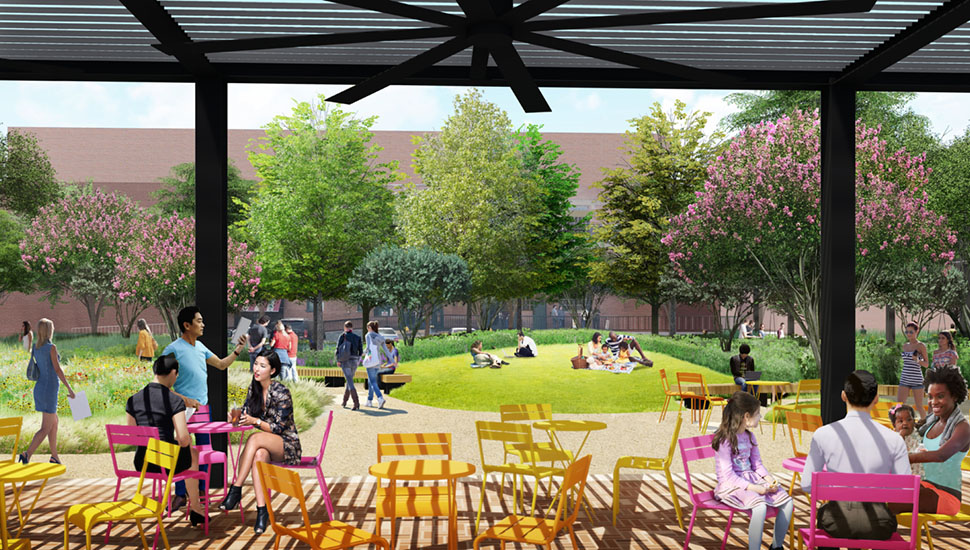 The park's design includes an outdoor work space, porch swings, and a U-shaped steel mesh intended as a flexible anchor for a plug-and-play approach to technologies that will be incorporated into the uses and needs of the space over time can.
West End Square will be the only centrally located green space in the West End Historic District and will be bounded by Market Street to the east, Corbin Street to the south, North Record Street to the west and the old Spaghetti Warehouse building to the north .
Steve Hulsey, President of Corgan said the park's support shows that the company "believes in the power of place – the connection of built environments and intentional exteriors like these that form a rich, vibrant street scene and make meaningful difference in affect our and our neighborhood lives. "
Corgan has a long history in the Dallas area with more than 400 employees in the West End.
According to a statement, construction on West End Square is expected to take 12 months.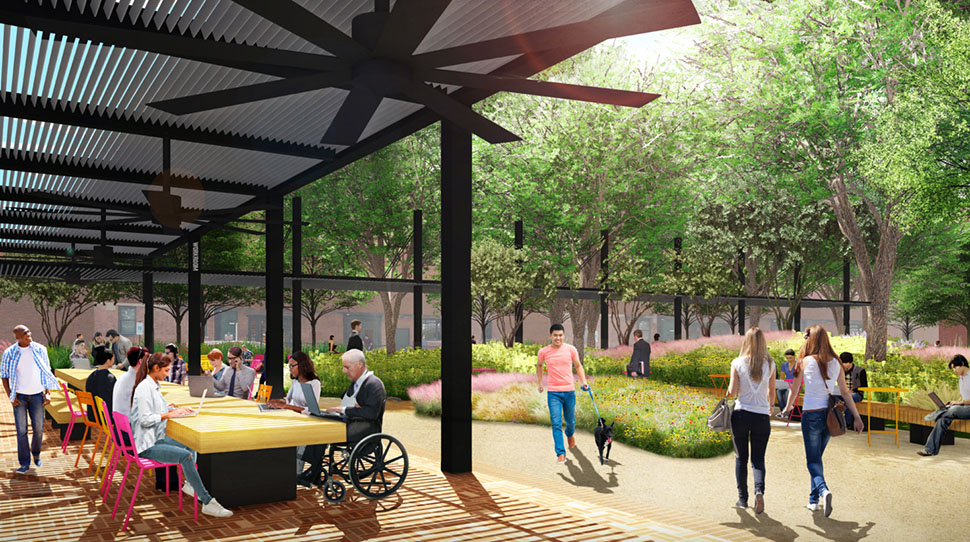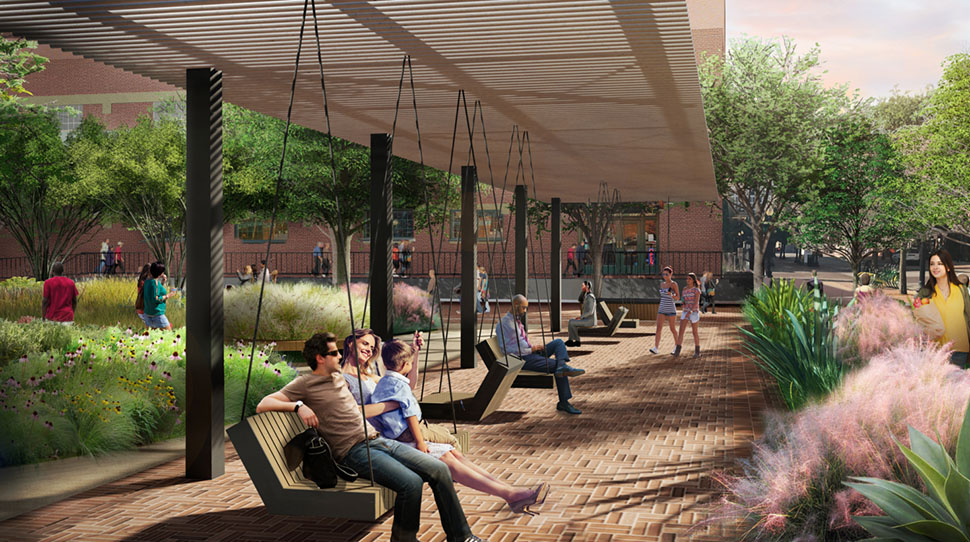 Go on the list.
Dallas innovates every day.
Sign up to keep an eye on the latest and upcoming developments in Dallas-Fort Worth every day.
CONTINUE READING
There are many things to do with your physically detached time. Here are a few from our curated selection.

West End Plaza at Market and Corbin Streets is part of ongoing neighborhood developments where the Dallas Innovation Alliance is testing smart city technology.

Browse our curated selection of events to help plan your next week – and beyond.

Browse our curated selection of events to help plan your next week – and beyond.

Browse our curated selection of events to help plan your next week – and beyond.