Best Dallas, Texas Suburbs to Live, Drink, and Eat In
With a metropolitan area larger than some states (all right, Connecticut, but still pretty big), it's a breeze for the Dallas suburbs to expand and thrive. Suburbs are known for chain stores and backyards that are legally equipped with trampolines or above-ground pools. Sometimes suburbs get a bad rap, wrongly. What exactly is the difference between our remote suburbs and Lame-O, USA? We featured the top neighborhoods that would give the Dallas lifestyle a run for its money.
Eisemann center | Flickr / A Davis
Richardson
Richardson is just off US 75 from Downtown Dallas and serves as Dallas' gateway to the dozen of northern suburbs. Richardson is also a food lover's paradise. The offer ranges from Thai hole-in-the-wall dishes to high-quality comfort dishes such as Jasper's.
Distance from downtown Dallas: 15 miles
Public transportation: DART bus and light rail
Food scene: Strong to very strong with an emphasis on Asian and Middle Eastern cuisine
Best local bars: The Richardson Food Truck Park has a bar built into an old trailer. It's dog-friendly and has a wide variety of local beers, as well as Prosecco on tap.
Cost of Living ($ – $$$$ scale): $$; Downtown Richardson has affordable mid-century homes, while North Richardson is more focused on apartments to cater to the students attending the nearby University of Texas.
Local entertainment value compared to entering the city (scale 1-5): 4; With the Alamo Drafthouse, Eisemann Performing Arts Center, and hundreds of affordable restaurants, it's quite possible to experience great food and culture without ever leaving Richardson.
Eric Urquhart / Shutterstock
Plano
Plano, the king of the DFW suburbs, will soon host more transplants outside of the state as Toyota moves its US headquarters to the city. Plano has come a long way since addressing shame in the '90s as the focus of an MTV documentary about teen addicts. It's now the gold standard for suburban success in the Metroplex.
Distance from downtown Dallas: 22 miles
Public transportation: DART bus and light rail
Food scene: From grill to sushi, if there's a high-end restaurant in Dallas that you love, there's a very good chance the restaurant has a Plano outpost.
Best local bars: It's hard to beat the feeling of sitting on the rooftop bar of Plano's beloved Pizzeria Urban Crust and sipping a cold beer or a full-bodied glass of Cabernet.
Cost of living: $$$; Living in Plano is not cheap. With thousands of Californians moving to Plano, you should be ready to pay a pretty penny for a house or apartment.
Local entertainment value vs. go to the city: 3; With plenty of restaurants and movies on offer, Plano offers enough basic entertainment, but music lovers will still head south to Dallas to organize their concert.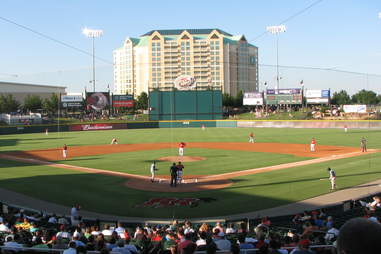 Flickr / John Tornow
Frisco and the Colony
The northern suburbs of Frisco and The Colony are growing faster than any other suburbs in the region. The cowboys even moved their practice facilities to Frisco and joined the Rough Riders of baseball and the Dallas FC of football. It's not cheap, but it's definitely not boring either.
Distance from downtown Dallas: 30 miles
Public transportation: Not currently, but part of DART's northern expansion plan
Food scene: Steakhouses, steakhouses, steakhouses. While Tex-Mex, Italian, and Thai offerings are also available, high-end dining is king at Frisco and The Colony. So if you are looking for an expensive steak or a delicious sushi roll you are in the right part of town.
Best local bars: The football scene in the British Lion Pub outside the Toyota Stadium is lively and loud.
Cost of living: $$$$; Life in Frisco and The Colony is famous for some of the city's most expensive properties rather than those who are weak on the wallet. There aren't many ways to get Frisco or The Colony cheap.
Local entertainment value vs. go to the city: 4; If you are a sports fanatic Frisco has plenty of entertainment options for you. However, fans of theater or live music may find that Frisco and The Colony are missing.
Flickr / Southlake Texas
Southlake
Located near DFW Airport and halfway between Dallas and Fort Worth, this suburb is best known for its downtown Southlake area. Residents include dozens of current and past Dallas Cowboys, and no other suburb offers residents the chance to encounter Terry Bradshaw at the grocery store. But it's not cheap.
Distance from downtown Dallas: 30 miles
Public transportation: Ha ha ha you're kidding aren't you? Didn't you get the memo that every Southlake resident must buy a Range Rover?
Food scene: Much like Frisco and The Colony, Southlake is all about high-end dining. From expensive seafood to DFW staples like Mi Cocina, this is definitely not a hole in the wall mecca.
Best local bars: The people watching in downtown Southlake are second to none. And there's no better place to people-watch than from a bar stool at The Ginger Man, the popular Dallas bar that grew into Southlake.
Cost of living: $$$$; Over 75% of Southlake residents make $ 100,000 or more annually. To be able to afford Southlake's spacious and huge mega mansions, you need to bring a lot of money with you.
Local entertainment value vs. go to the city: 2; While the people are great watching, Southlake's entertainment options for free or cheap activities are extremely limited. What else would you expect in a city where almost everyone has their own cinema?
Flickr / Mark Collins
garland
Garland is a large and sprawling suburb that extends north and east from the White Rock Lake area. It's affordable, funky, and closer to Dallas than you might think. It's also a paradise for budget-conscious foodies.
Distance from downtown Dallas: 18 miles
Public transportation: DART bus and light rail
Food scene: With a large immigrant population, Garland is a hotbed for affordable cuisine from around the world. Pho and barbecue are two of the most popular players.
Best local bars: It's terribly hard to beat that $ 5 burger and deliciously filthy martini from Bar Louie with the garage doors open and a Rangers double-headed on TV.
Cost of living: $; Garland is one of the most affordable suburbs of the Metroplex, offering young professionals and those looking to slowly explore life outside of the hectic city a great experience for getting started in suburban life.
Local entertainment value vs. go to the city: 3; It should be noted that Mike Judge, creator of Beavis and Butt-Head, Office Space, King of the Hill, and Silicon Valley, is from Garland. So if you've always wanted to get inspiration for Boomhauer and Dale Gribble, pop into an alley or sports bar in Garland and have a cold Alamo beer.
Carrollton-Farmers Branch
Carrollton (and Farmers Branch), once a relatively anonymous and somewhat unidentified suburb, have made a name for themselves for their food scene and affordable housing.
Distance from downtown Dallas: 19 miles
Public transportation: DART bus and light rail
Food scene: Properly made Middle Eastern and Cuban food is one of Carrollton's calling cards. It's also home to the ever-popular and highly recommended Babe's Chicken Dinner House.
Best local bars: Sports bars dominate the Carrollton and Farmers Branch drinking scene. Chopshop Sports Garage is an auto mechanic-themed gastropub with numerous craft beers and the opportunity to watch Mavericks, Cowboys, Stars or Rangers games with like-minded passionate fans.
Cost of living: $; There are plenty of affordable, mid-range older homes and apartments in Carrollton and Farmers Branch. With easy access to public transport, it is easy to get into the city quickly and cheaply.
Local entertainment value vs. go to the city: 2; There aren't many unique entertainment options in Carrollton and Farmers Branch itself. However, its location off I-35 within a 30-minute drive of Dallas to the south and Denton to the north is a short drive from all kinds of cultural events.
Sign up here for our daily email to Dallas and be the first to receive everything DFW has to offer.
Follow world-class pizza eater Amanda Cobra on Twitter @amandacobra